A Bright Idea
How the light bulb came to be a sign of a good idea.
Have you ever wondered why cartoons show a lightbulb over a character's head when they have a good idea? Some of it has to do with the invention of the light bulb: it was a good idea. But there is more to it than that. And the history of it goes back a lot farther than when Thomas Edison invented the light bulb.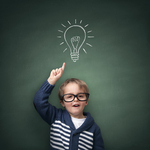 Light has been a symbol of knowledge for a long time. A lot of schools and colleges use oil lamps or the sun in their emblems to symbolize a place of learning. It makes sense when you think about it: you see, or understand, things better when there is light.
Have you ever heard the phrase "bright idea?" A lot of people use it to describe someone having an interesting thought. It was used before the invention of the light bulb! The notion is that good ideas, bright ideas, shine a little light into the world.
So when did light bulbs and cartoons mix? It all started with Felix the Cat. Felix first appeared 100 years ago and was the first famous cartoon. Felix is so old he was popular before movies had any sound. He was a silent movie star!
Because Felix was a silent cartoon, they had to tell the story of his thoughts and words on the screen with only symbols and gestures. So animators, the people who draw cartoons, would show things above his head—like light bulbs—to let the audience know Felix was thinking!
From there the idea caught on. Everyone started using the light bulb to help show when a character had an idea. And that is how light bulbs came to be a symbol for a good idea.